---
---
2022 Back-to-School Fair, Thursday, August 4th
---
Sponsor a Backpack
Donate $25 to sponsor a backpack, school supplies and shoes for a child who will attend the 2022 Back to School Fair.
---
Your 2022 Back to School Superhero Winner
Congratulations to Shanna Meyer, counselor at Crystal City Jr. High and High School. She received over 1,000 votes to be named our 2022 Back to School Superhero.
Nancy Pope, DRA's Executive Director, and Jennifer Brody, DRA's Director of Development, awarded Mrs. Meyer $500 for Crystal City School. She will use these funds to provide for the needs of the students she serves.
---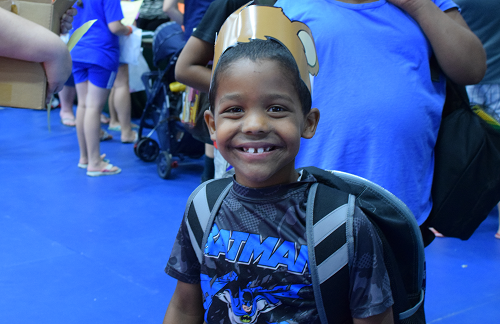 The Jefferson County Health and Education Committee is a partnership of local non-profits and area health and social service organizations. The committee meets throughout the year to evaluate the needs of the community and organize fundraising activities to fund the Back-to-School Fair.
We are always looking for new members and new ideas. If you would like to get involved please contact Nancy Pope at nancyp@dra4help.org or (636) 931-7696.
---
2022 Back-to-School Fair, Thursday, August 4th
---
Each year the Jefferson County Education Committee hosts the Jefferson County Health and Education Fair. The Fair provides free school supplies to pre-registered low-income children in Jefferson County School Districts. Each registered child receives a backpack, school supplies, a free pair of name brand shoes and many additional resources like hearing and vision screenings, dental screening, haircuts, healthy snacks, books, as well as information from vendors regarding school lunch programs, insurance, and much much more. All of these services are provided at no cost to the children and families who attend.
Each year the Back to School fair serves over 700 low-income children from all over Jefferson County.
For registration information, please Register Below or contact DRA at (636) 931-7696 or Jefferson Franklin Community Action at (636) 789-2686.
Total Stats for the 2021 Back to School Fair:
Backpacks filled with school supplies were given to 672 children. (including families unable to attend the fair)
52 Free Haircuts + 13 coupons for free cut = 65 Free Haircuts
8 Families applied for SNAP benefits
159 Families received a bucket of cleaning supplies
548 Children received brand new Adidas shoes
34 Families applied for WIC benefits; 150 received WIC packets and milk cups with stickers
250 Period Supply Kits distributed to families by JCCP
400 Masks provided to attendees
240 Scientific Calculators distributed to Jefferson County High Schools for low-income students
Join Us
Fundraising for the fair occurs year round and we are always looking for volunteers and businesses willing to sponsor a fundraising event. Sponsorship levels and advertising options are also available for individuals and businesses willing to sponsor the fair itself. 100% of the money raised for the fair goes back into buying school supplies and any help is most appreciated. Please call to get involved and check back often to learn more about our upcoming fundraising events. For more information please contact Nancy at (636) 931-7696 or nancyp@dra4help.org.